Archive for July, 2006
Wednesday, July 26th, 2006
This coming weekend…mark your calendars, July 29-30!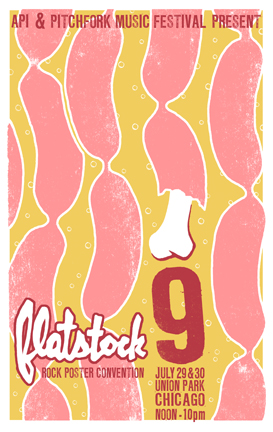 Monday, July 24th, 2006
This coming weekend Cricket Press will be at Chicago's Pitchfork Music Fest…as a vendor of Flatstock 9. As some may know, Flatstock is a large, gigposter convention…but along with our posters…we will have a slue of other fun items…such as:
-A brand new series of Cricket Press RINGS (all one of a kind and not available online yet!)
-Two new sets of Cricket Press buttons
-Several new Card-sets and Minicomics
-A handful of Test-Print notebooks…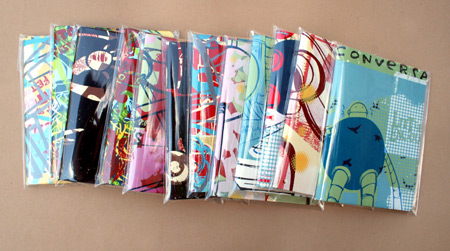 -A new limited-edition, 12″x12″ Art Print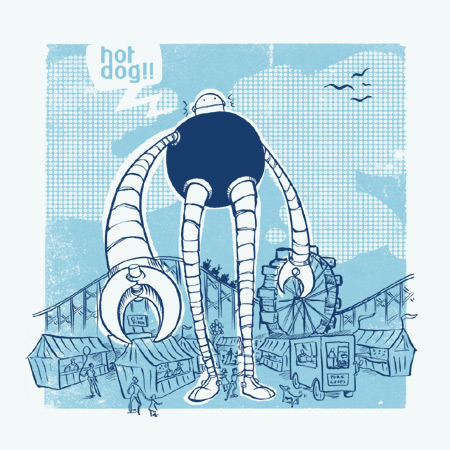 (as you can see….I'm on a robot kick.)
-AND introducing the first set of Cricket Press T-shirts and Aprons!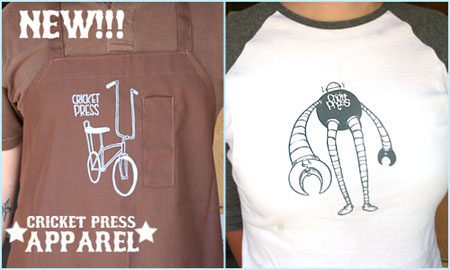 So, make a point of stopping by Flatstock if you're going to be attending the Pitchfork Music Fest! I'm personally looking forward to having the chance to see Band of Horses…otherwise, i will be behind the CP booth.
Thursday, July 6th, 2006
As I mentioned earlier…we attended Heroes Con in Charlotte NC. Cricket Press didn't have a booth, but I did with Make Like A Tree Comics. Heroes Con promotes itself as a kid-friendly show…which was perfect for us. And though, I personally don't have a lot of comic convention experience…apparently not a lot of cons are meant for kids. But over the course of the weekend…the general consensus from folks we met was that environment was so much nicer. We liked it!
We had never been to Charlotte before either…and what i nice town. Full of nice fountains, parks and bars within walking distance!
Here's our booth:

The floor…

And lastly the fools behind Make Like A Tree Comics:

We were interviewed by a couple different comic podcasts. One by Peter at Comic Geek Speak is already posted as Episode 153.