Tuesday, July 22nd, 2008
Well, we're back from another Chicago - Pitchfork Music Fest Flatstock. And though the weekend started off rainy…it only got better from there.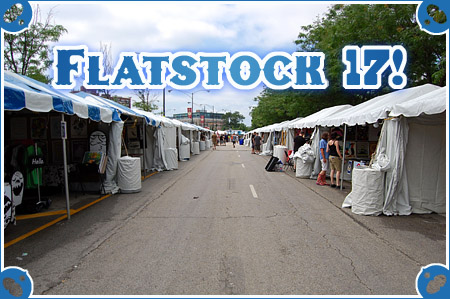 It's true…Saturday morning as we all tried to set up booths…it not only rained on us, it poured. It was a constant struggle to keep anything from touching the ground. It's not good for moral when your setting up paper-products in the rain…i will tell you that. But a couple hours later…presto!…the rain vacated, the sun won out and the rest of the weekend was humid…but dry!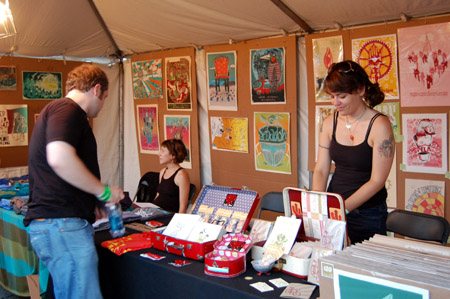 We've always had tremendous luck with who we get to share a tent with at Chicago. This year it was Weather Maker Press!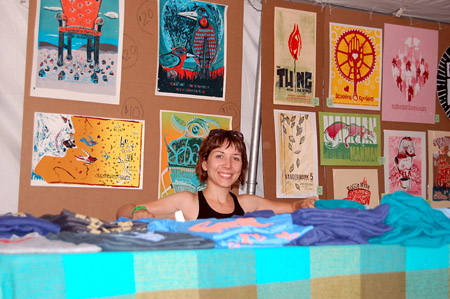 Here she is…Gina, the gal behind Weather Maker…brilliant! She brought this tub of chalk and let all the kids draw with it in front of her booth. Though later she would fall to ground so folks could draw chalk outlines of her lifeless body. I told her she should try being a quieter "dead person"…after a few seconds thought she declared "I can't help it…I'm a talkative person!"
Oh! And her booth mate Holly was great company too! Apparently she was an extra in the movie Shawn of the Dead. She told us not to try and find her in it…but Holly, we totally found the scene you were in…it was exactly where you said it would be. You looked pretty gruesome.
We also had a Flatstock first! Brian and I closed down the booth completely for the first time EVER at a Flatstock…and it was totally worth it.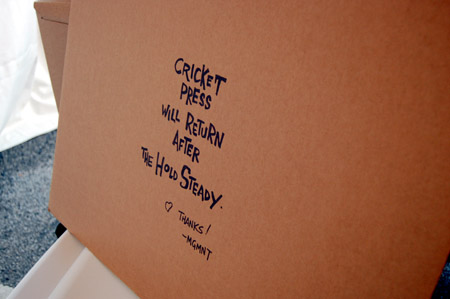 This was the second time we've seen these guys play…and I can not explain how much fun they are to watch. I mean, these guys ooze everything Brian and I love about rock n' roll. They're having a blast on stage, their audience is rocking out…remember when rock music was about having fun and not fronting? Or are we just showing our age?
A few other highlights were finally meeting some new guys like: Plastic Flame and The Half & Half (which we almost shared a booth with!). And catching up with some old friends like: Travis from Furturtle, Clinton from Galaxy Reno, Andy from Boss Construction, and the entire Chicago crew…Nick, Nadine, Dan, Jay and Diana! Good times!!! Thanks for another great year.