Archive for August, 2009
Tuesday, August 25th, 2009
Two new art prints Coming Soon!
"Thistles" & "Cricket"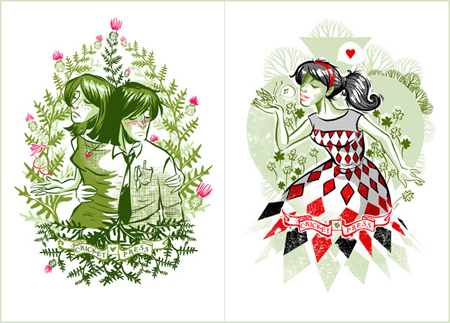 both prints will be 4-color, 12.5″x19″
Tuesday, August 11th, 2009
Cricket Press will be at The Woodland Art Fair - August 15-16th (Church side!). Come by and say HI! We'll have a ton of new work including art-prints, t-shirts, gigposters and other fun stuff!!!
**SPECIAL ANNOUNCEMENT!**
For the first time this year, the Woodland Art Fair will be offering FREE valet bike parking, located in the handball courts next to the tennis courts. Ride your bike to the Fair, and let the volunteers watch over your bike in a safe and secure area.
For those who ride their bikes, utilize the valet bike parking and present their bike valet ticket stub at the Cricket Press booth, receive a FREE hand-printed mini art print. Prints are first-come, first-serve so get them while they last! Pass the word along, and get more people out to the Fair on bikes this weekend!