Tuesday, June 8th, 2010
Kids Read Comics!
www.kidsreadcomics.org
Henry Ford Centennial Library
16301 Michigan Avenue, Dearborn, MI 48126
June 13th-14th 2010
The Kids Read Comics Convention is a totally free event that unites kids, teens, parents, teachers and librarians with professional artists and writers from the comics and animation fields.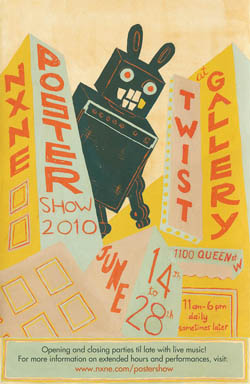 NXNE Poster Show 2010
Twist Art Gallery
1100 Queen Street West, Toronto, ON M6J 1H9, Canada
in conjunction with NXNE Music Festival
June 14th-28th 2010
Cricket Press in Charleston
16 Penny Gallery
561 King Street Charleston, SC, 29403
Opening June 21st
Opening Reception Thursday June 24th 6-8pm
A collection of 40 Cricket Press gig posters and art prints.