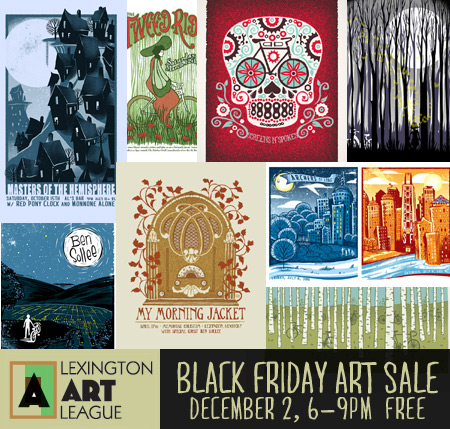 Hey all! Get your Holiday shopping done early! We're going to be a part of the Lexington Art League's Black Friday Event December 2nd. Mark your calendars and come on down. We'll be set up selling gigposters, art prints, books, cards…and other assorted swag!
LAL @ Loudoun House
Black Friday Art Sale, in Partnership with dRockPress
Event: December 2, 6pm –9pm | Free
Extra Buying Day: December 3, 1p - 4p
Join LAL at an alternative art fair happening 2 days only. Everything is under $50, making it easy to buy gifts for everyone on your holiday list. Meet the artists and learn about their work at the event, all with live music, food and drinks.
Black Friday artists: Joel Feldman, Jeff Rial, Perry Hooks, Waylon Bigsby, Elaine Quave, Cricket Press, Nick Alley, Drockpress, Jamie Karolic, Emily Howard, Dylan Dean, Liz Foley, Becky Joubert, Dovetail