Thursday, October 5th, 2006
For those of you in and around the Fort Wayne, Indiana area, there will be a gallery exhibition featuring artwork by Make Like A Tree Comics…Oct. 2nd through November 3rd at Indiana University-Purdue University Fort Wayne.
The exhibition is titled Monsters, Aliens, Robots and Teenagers: The Unlikely Protagonists of Jerzy Drozd and Sara Turner. On display will be original pages from the various comics by Jerzy, as well as giclee prints and screen-printed art/gig posters by myself. You can get more info at the School of Visual & Performing Arts events page.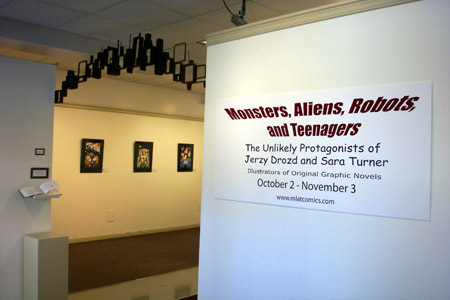 The show is being held in conjunction with a lecture and workshop by Jerzy and myself. During the lecture we'll be discussing our thoughts on comics creation, what methods of self-publishing are open to new creators, as well as how we land freelance illustration gigs. The workshop will be a hands-on comics illustration class of sorts, where we'll all turn a sample script into a penciled page. The lecture and workshop will be held the weekend of the closing of our exhibition, 03 and 04 November.
I hope to see some of you there!