Thursday, December 4th, 2008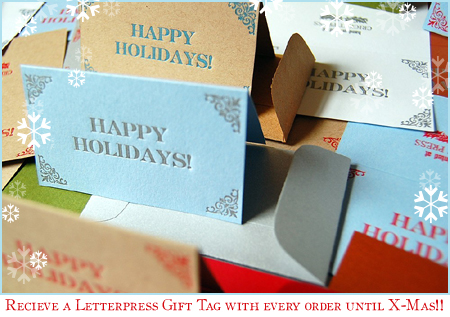 NEW!
Every order placed now until the end of our shipping season will receive one of our new letterpress gift tags…perfect is your item is going to be given…but also pretty nice if it's just for you!
-Holiday Cards, Galore-
We have three editions of Holiday Greeting Cards this season. The classic letter-pressed Winter Cards and Starlight Mints are back and in full stock. We also have 3 new lines: Cocktail Time!, Holiday Forest, and Polar Bear card sets. Both of these limited-edition sets are screen-printed and come with their own matching envelopes. You can check them all out in our Holiday Gift Guide!
**Cricket Press Shipping Schedule:**
To ensure that your items arrive for Christmas please place orders by these dates:
International Orders……December 10th
Domestic Orders………..December 18-19th
We cannot guarantee any shipment, placed after these dates, to arrive by Christmas.We will continue to accept orders through the season, but anything ordered after December 22nd will not be mailed until after New Years Day.
Thank you! And Happy Holidays!!!